op zoek naar iets unieks en moois,
naar een origineel cadeau
of gewoon op zoek naar een leuke activiteit?
dan is keramiek zelf beschilderen precies wat je zoekt!
KLEUR het KOPJE
pottery painting 
laat je gewoon inspireren.
op locatie vindt je diverse voorbeelden en handleidingen.
Het is makkelijker dan verwacht!
altijd gezellig, individueel & creatief



KLEUR het KOPJE is a pottery painting studio in the heart of the city of maastricht. you may also call it A PLACE TO BE where we provide not only a cosy and relaxed atmosphere.
just let your inspiration flow and design an awesome and totally unique piece of ceramics!
our paint is non-toxic and ready to use. the glazed and fired ceramics are food safe, waterproof and you can put things in a dishwasher.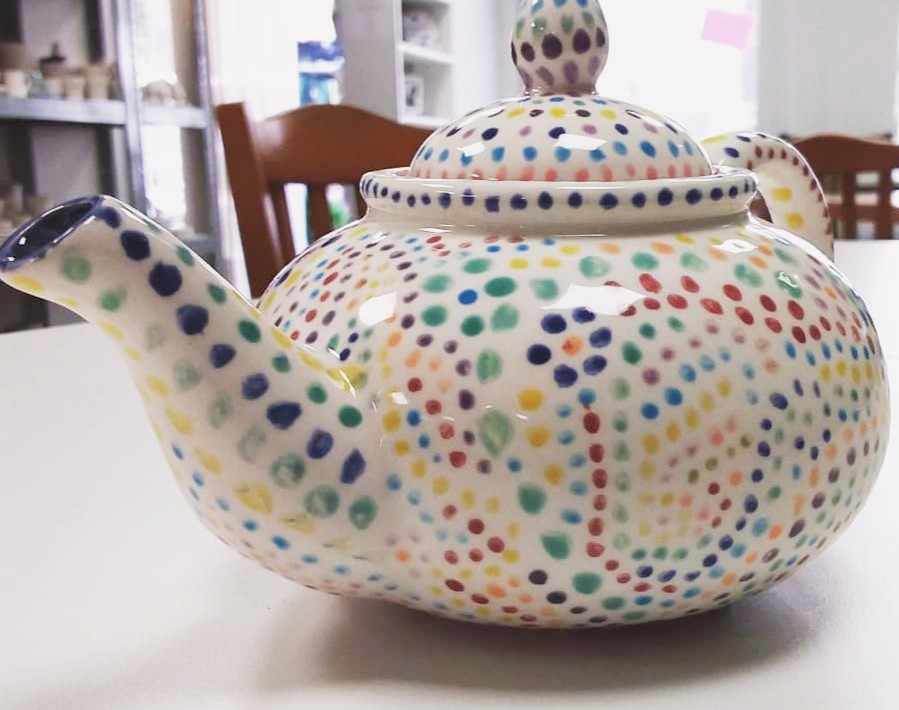 hoe werkt h

et?
just choose ceramics,
then choose colours and painting equipment
and start right away.

you don't have to follow a special workshop or classes, just make an appointment and drop by.

of course you can also take away your beloved ceramics and paint it at home.
you only have to pick up your items after firing in a kiln, which takes something between two days and one week,

but we can also ship items to any destination.
EN VERDER
cadeaubonnen/ gift cards
groups/ parties/ events
after work painting
baby footprints
workshops

verjaardag, familiy of vrijgezellenfeest?

uitstapje met vrienden,

met school of met collegas? er is plek voor tot 42 mensen.

ever thought of having a special kind of party or event? where you have not
only fun together but also discover your artistic skills?
CERAMICS & PRICES
at KLEUR het KOPJE we provide lots of shapes and styles unglazed ceramics.
that's how you can create your very own coating design on those items.
you pay 3,50 € once per person plus the ceramics prices (12 - 46 € per item). so actually the prices depend on the ceramics and the number of items chosen.
additional fees may apply for special glazes, special technics, extra work or extended painting sessions.
at KLEUR het KOPJE we also host several further
handcrafts workshops

have you ever wanted to create your very own MACRAME item, something unique with MOZAIK technique, an awesome creation out of DRIED FLOWERS or even more?
upcoming workshops
fri, 13 jan / starting 6 pm / MACRAME PLANTHANGER workshop (with Gaya @macramemaas) - fully booked!!!
thu, 9 feb /  starting 6.30 pm /  DROOGBLOEMEN KRANS workshop (with Roos @loco_bloemen_maastricht)

-
 t.b.a / MACRAME workshop  

t.b.a. / DROOGBOEKET workshop
any other idea for a workshop ?
want to sign in for a workshop? write us on instagram or
whatsapp +31 612836857 or
further workshops are to be scheduled.
so stay curious, stay tuned and
follow us on instagram & facebook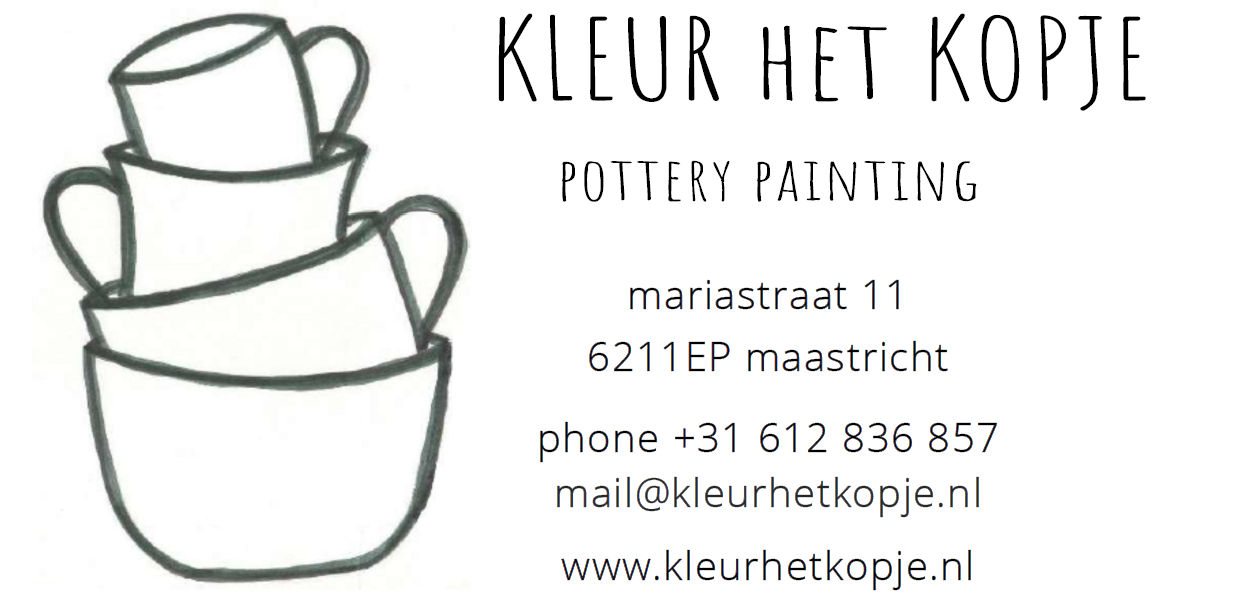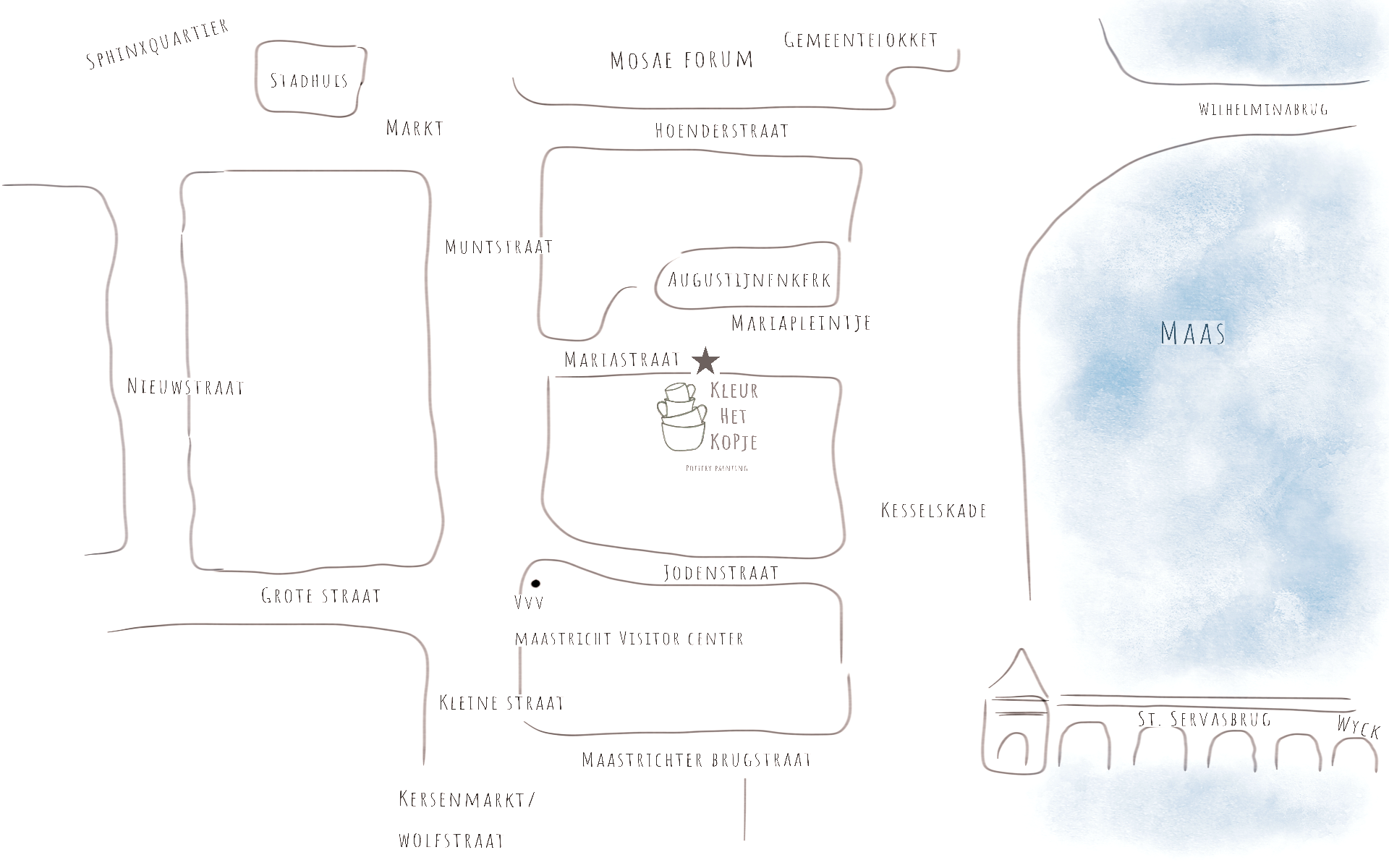 appointment required
make an appointment via whatsapp +31 612836857 or mail@kleurhetkopje.nl
kvk 75514222
btw nl002493478b12